It has been a full week since my last post. You think being home for seven days I would write more… you would evidently be wrong.
I mentioned in the last post that my surgery was still a go. Even at that time with COVID19 not hitting full-blown yet I was pretty sure it would be canceled, and it turns out I was right. Friday, an hour before we were going to leave for my preop appointment I got the call.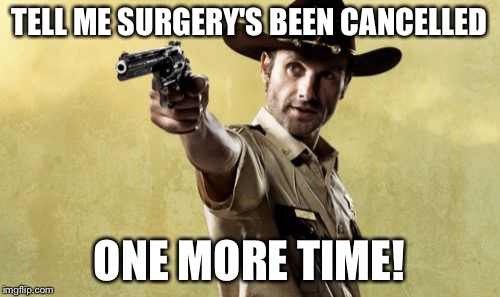 I talked with them on the phone and they said I could come in for the preop and not have to do it when surgery began again. As it stands non-emergent surgeries might start back up May 18th. I told them I would come in anyway, just to get it out of the way.
Turns out they will still need to do another preop since it is too far away to give me the narcs I will need for post-surgery recovery. That is ok though, I got to sit with Dr. Mangubat and his wonderful nurse (for the life of me I can't remember her name).
They reassured me that it would eventually happen. The hubby asked about combining it with my other upcoming surgeries and we also found out that if I get my lower face FFS/touch up around the eyes that I could lump it in with the upcoming breast augmentation and it would save me more than $3,000 because I would already be on the table and under anesthesia.
The hubby asked if I would be interested in doing it all at once instead of waiting a few months after the breast augmentation. I jumped at the chance. The augmentation is covered by insurance, so we would have to come up with $14k and some change for the second part of my FFS. We are fortunate to have enough credit that we paid down from the first part of my FFS that we can swing it.
So we told the doc when he opens up surgeries again that I wanted the entire thing, breast augmentation, and lower FFS. I am excited about that possibility. It means my surgeries for my face and chest would be over after that. I still have possible surgeries to deal with my Peyronie's disease, a future tummy tuck, and possible Gender Confirmation Surgery if the surgeries for Peyronie's don't work out. But everything chest level and up will be done except many more electrolysis sessions (which btw will probably start in November again).
I was also able to double-check the sizing of 800cc implants on my frame and they don't look too big. We thought for a while they might be too much, but my chest is very broad, and at 6'2″ they will be larger breasts, but not stripper size.
Since learning this last Friday it has caused me a bit of anxiety and dysphoric depression this week, with the realization that it got pushed off. I suspect it is going to be longer than May 18th as well. I don't think things are going to go back to normal that quickly. Either way, I don't begrudge the safety measures so there is space for people who are actually sick with COVID and other life-threatening procedures, but it doesn't change how it feels inside.
So there it is, surgery is pushed off, BUT when I do get it, it will be a lot bigger and more impacting. So good stuff coming, just have to wait for it.